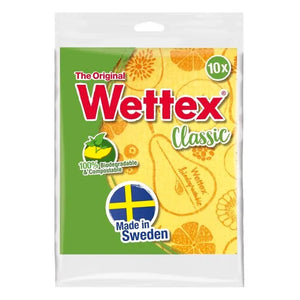 Skafferi - Kitchen Pantry
Wettex Disktrasa Klassisk 10pack -- Dish Cloth Classic (Wettex) - 10 pack
Regular price
$15.00
$0.00
Unit price
per
All orders must be picked up in person.
Wettex Classic is the classic dish cloth with superior absorbent capacity, which was launched in Sweden in 1949 as the very first sponge cloth. With production facilities in Norrköping, Wettex is the only sponge cloth manufactured in Sweden. Suction capacity is superior, up to 15 times its own weight. Dries completely dry and clean in a sweep without leaving any streaks or leaving streaks behind.
Eco-friendly Wettex is made up of 100% natural materials:
- Water
- Base paints - Chlorine-free manufacture
- Biodegradable and compostable Wettex household cloths are washable at 95 ° C.

Vileda – 10 pack

---